Again, another demonstration on this most important concept, this time using eurjpy. Go read this previous tutorial on my concept here.
Before placing any trade, always take a look at potentiel "WALLs" between the current price and the target. If the WALL is present , strongly consider reviewing your analysis.
Human views are skewed by a plethora of reasons, don't assume your first analysis is the most probable one. Review, review, review! Give yourself the best chance before entering the war. Like most pro athlete, the contest outcome is strongly correlated to how well they prepared in training.
Okay, let's rewind back to the November 2013 breakout candle. A first analysis gives me a mesured move all the way to 175.00. Wow! $$$$.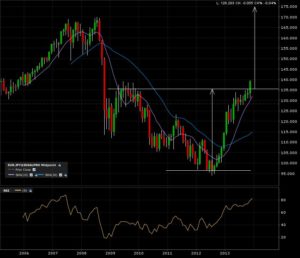 But wait, let's now take a second pass to see if this is really an A+ setup. Is there a WALL on the way to this possible target? Check this next chart. A previous breakdown generated a potential WALL at the 150 level (support turned resistance).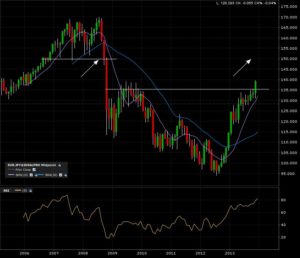 Now, let's see what happenned to the price action as we advance in time to the present day.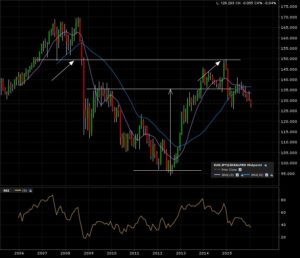 The 150 WALL was hit and refused the advance to our initial 175 target. Price action eventually retraced below our breakout line and triggered us out of the position for a loss.
So now, time has passed and the chart has morphed. Check this previous post on chart morphing here. A first analysis gives me a bearish target of 104.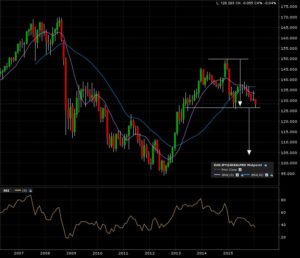 Lesson learnt from not checking possible WALLs on route to target. Here is the graph with my second analysis. Yep there is a possible WALL from a previous breakout at 111 (resistance turned support). This possible WALL lowers the probability of reaching my possible target at 104. Not an A+ setup anymore.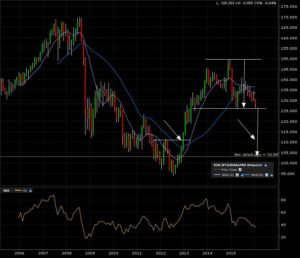 Now here is my "re-thought" analysis with the more conservative target, thus increasing the probabilities.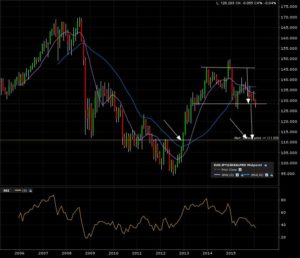 A tighter top formation is outlined. giving a reduced mesured move to be added to the breakdown line. My new, higher probable target of 111 is established!
Targets are possibilities, but what is the probability of attaining it? That is the important question to estimate before giving an A+ grade to a trade setup.