The loonie is a hot topic this week.  When a game changer has been played for a currency, I like to do a field trip with other currency crosses with cad involved.
Enter cadjpy. Like most currencies getting gains against the yen in the past 2 years, some historical resistance has been reached (mid-2008) for this pair.
The monthly candle chart (7 years) clearly shows the bounce off the 106 resistance line, with the price action heading back to the 91 mark for another test of that 2 year support line.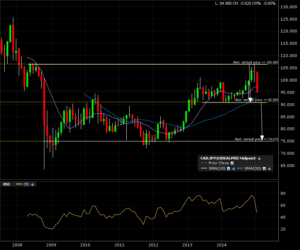 Zoom in on the weekly candle chart shows this 2 year top pattern: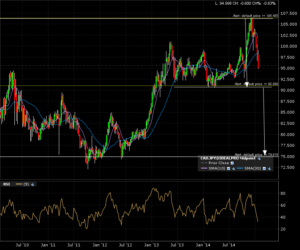 The daily candle chart (1 year) shows some close support around the 92.50 level. After that, we are heading to the longer term support line. That is when I'll consider this play.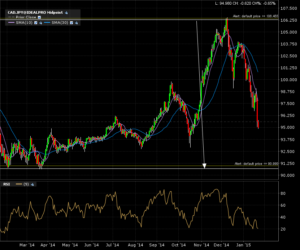 A confirmed monthly candle breakdown would give me a measured move to the important support line at the 75 mark.