Stornoway Diamond Corporation might of just set a bottom and ready to get sparkling! My father in law is a BIG fan of the fundamentals for SWY.CA, so I gave the charts a look at.
Here is the monthly candle chart since late 2007. The 45-50 cent level has been tested for the past +2 years and has proven to be solid support. The monthly breakout above the 1.20 mark would give an implied measured move target of 1.90.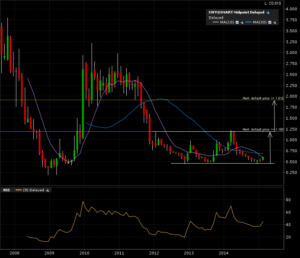 Same story on the weekly candle 5 year chart. We can actually observe some bullish divergence with the rsi.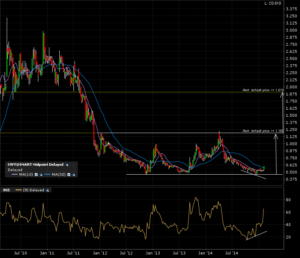 Zooming in on the daily candle 1 year chart shows some promising signs for a drive to the breakout line. There is a 4 month base which just broke out.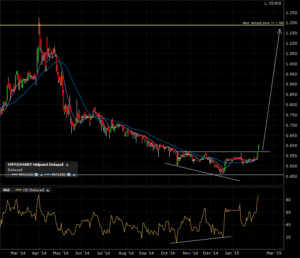 Well, I'm not one to pick bottoms or look at fundamentals for choosing my plays. So I put my alerts in and will wait for that monthly candle breakout. For others more willing to catch a falling knife, this could be your chance without too much blood shed!